Evil Interiors is a series of digital prints and video from environments of concentrated fear and violence. These are well-known locations in hollwood films, like the suburb house in A Clockwork Orange, the motel room in Psycho, the storage in Reservoir Dogs and the hotel room in Scarface.
Working with stills from the films the sets where re-created, the architecture was estimated, and the textures and objects reconstructed. The reconstruction was done using the computer game Engine Unreal 2003.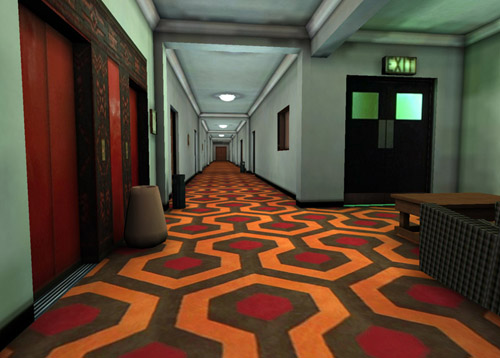 The project resulted in 16 recreations. Large sized digital prints of the scenes was exhibited at the Gallery Andrehn-Schiptjenko, Stockholm in February 2003. The work also resulted in real time animation presenting the different sets and video takeouts. Last showed at the Try again exhibition in Madrid 2008.
* Browse all the Evil Interior files
* Here is a text from the book gamescens about Evil Interiors here Domenico Quaranta